7 Effortless Ways to Transition Your Decor from Summer to Fall
Posted:
September, 8, 2022 |
Categories:
Blog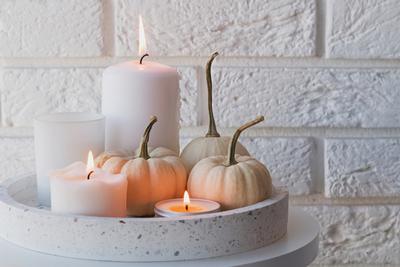 As the summer heat fades and cooler weather rolls in, it's time to trade in lightweight fabrics and sunny colors and embrace the warm, cozy ambiance of fall. A neutral palette and simple accessories will help you keep the best of both seasons in your home with timeless style. Learn how to change your decor from summer to fall by incorporating these subtly seasonal accents.
Add Soft Whites - One of the benefits of a neutral color pallette is that it makes it easier to transition from one season to the next. Decorating in white, cream, and ivory provides the perfect backdrop for adding fall accents If you don't have a neutral color scheme or prefer a little more color, simply decorate seasonally with neutral colors. Use white and cream elements, such as throw blankets, pillows, rugs, and even pumpkins, to balance a more colorful background.
Layer Textured Decor - Bring the fall feeling into your home by layering textures. Keep the additions minimal and you can easily add and subtract elements to achieve the look you want. A plaid throw blanket on the foot of a bed or a faux sheepskin pelt draped over a leather chair can add just the right amount of warmth and invoke a cozy fall feeling without going overboard.
Include Natural Elements - One of the best ways to incorporate decorative fall touches is to feature natural elements. Decorate with pinecones, apples, leaves, branches, acorns, pumpkins, and gourds. Natural elements bring in just the right amount of fall, and they're also easy on your wallet. If you want to keep your decor neutral, use a white or tan color scheme to unify a space. Fill a large bowl with miniature white pumpkins, sprigs of bittersweet, and other gathered finds to create a beautiful centerpiece that whispers but doesn't shout fall in shades of orange.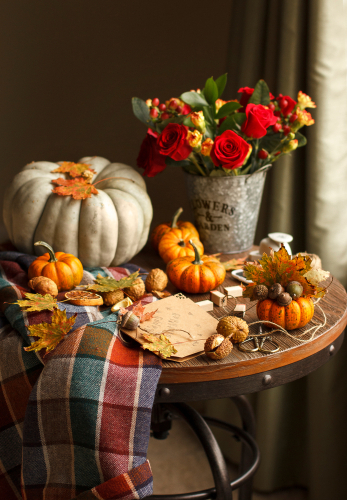 Switch Out Fabrics - An easy way to transition furniture for each season is to switch out cotton fabrics for velvets, knits, and softer materials on pillowcases, draperies, throw blankets, and rugs. These fabrics will make you want to get cozy while exuding that warm, welcoming feeling we associate with fall. It's also a great time to change up your accent colors to keep your decorating scheme interesting.
Incorporate a Fall Wreath - If you want to ease into fall gently and don't want to do much redecorating, a simple fall wreath with natural elements is a great way to move from summer to fall. Acorns, leaves, mini pumpkins, and wheat are all great fall wreath ideas that can span from late summer to late fall.
Add Soft Light - As the nights get shorter, gather up your candles and create a little fall ambiance. Put small candles in glass votives or Mason jars on a tray for a simple and effective fall centerpiece. Keep your decor simple, use neutral colors, and add elements gradually for fall decorating that easily lasts through late fall.
Work in Plaid Patterns - Plaid is a classic pattern that can work year-round, but it feels especially appropriate for fall. Layer in a variety of plaid elements, such as pillows, throws, rugs, and accessories, to quickly add a cozy pattern to your space. Plaid comes in several unique varieties, including buffalo check, tartan, windowpane, and madras, so feel free to mix and match different types for added interest. Stick to a mostly neutral color palette with an accent color or two mixed in to give the varied patterns a cohesive look.
Enjoy using these simple decorating ideas to ease into the crisp temperatures and falling leaves.
Entire article taken from https://www.bhg.com/decorating/seasonal/fall/transition-decor-from-summer-to-fall/.
---
---
By Isenhour Homes