April Showers...Let's Talk Shower Doors
Posted:
April, 29, 2022 |
Categories:
Blog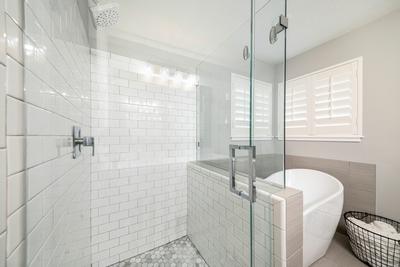 We all know what April means....showers. So, this month, we are going to talk everything "showers"....ending with shower doors.
The definition of shower doors are panels of glass designed to keep water from splashing and spraying all over the bathroom floor. Finishing our month of "April showers", we are going to talk about shower doors.
Frameless Doors - "A frameless shower enclosure uses sturdy tempered glass (usually 3/8" to 1/2" thick) that does not require the support of metal around its exterior edges. The result is a clean-lined, modern look that is free of visual obstructions. In fact, one reason frameless shower doors are so popular is that they help showcase beautiful stonework, intricate tile designs, and gleaming hardware. One thing to keep in mind is that frameless doors generally do include some metal. Frameless units can be virtually metal-free, except for clips on any stationary panels, hinges, and handles."
Semi-Frameless Shower Doors - "If you desire the contemporary look of a frameless enclosure but your layout will not allow it, a semi-frameless model can be a fine alternative. Look for high-quality components such as permanently bonded hinges, solid handles, and patented glass coating. A semi-frameless pivot door with 3/8" thick tempered glass and a taller-than-standard 76-inch height helps to impart a sleek, streamlined look."
Framed Shower Doors - "Just because they're more common doesn't mean framed shower doors can't be as eye-catching as their frameless counterparts. You'll find many models that are not only chic but sturdy, thanks to heavy-duty aluminum framing that adds strength and support."
Sliding Doors - "How your shower door opens depends on your style preferences and your bathroom layout. Sliding (also known as bypass) doors are a practical choice for tub enclosures and narrow bathrooms with closely-spaced fixtures."
Pivoting Doors - "Pivoting shower doors—also known as swinging or hinge doors—open like a standard door. They can make a sophisticated statement in a traditional or cottage-style bath. You'll want to make sure there's enough clearance between the fully-opened door and the surrounding bath fixtures."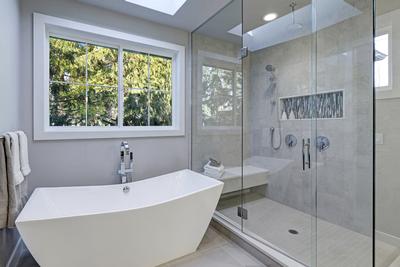 No Shower Doors - "Showers without doors, also known as walk-in showers, have several benefits." The doorless style saves time spent on cleaning a door, allows for a curbless design eliminating the need to step over a rim for those with accessibility issues, and creates an atmosphere with a spacious feel.
Glass Door Finishes - "At their best, clear glass shower doors can be like gleaming works of modern art. Frosted or textured glass adds privacy and a bit of fun to your shower."
"There are many different types of shower doors to select from for your bathroom. Whether you go with a framed shower door, frameless, a sliding or hinged door, or no door at all, your decision should be based on the look you want to have as well as your personal preference."
Part of the article taken from https://www.thespruce.com/shower-doors-what-to-know-326962
---
---
By Isenhour Homes